Sat - Feb / 24 / 18, 1:08p
Your guide to Amador, Calaveras, & Tuolumne Counties
---
San Andreas - Main Street, south side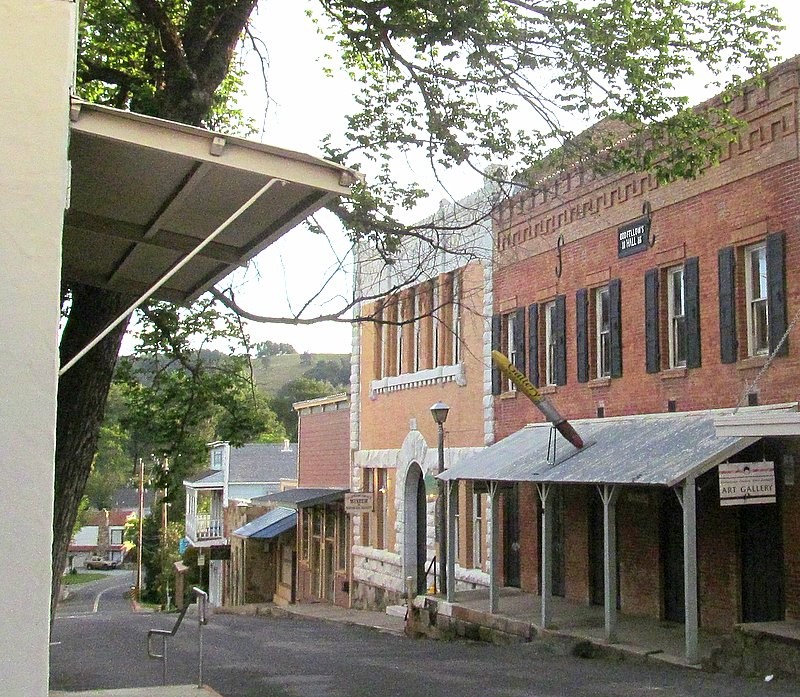 Description:
Historic Main Street in San Andreas, part of Historic Highway 49, contains many buildings from the late 1800s and early 1900s.
Buildings of note pictured:
the Calaveras County Historical Society Archives (old stone building, far left) was the first Restaurant in town

Old Calaveras County Courthouse (tan and marble) which now houses the Calaveras County Museum and Gift Shop.

the old Independent Order of Odd Fellows/Masonic Building, the bottom portion is Calaveras Arts Council Gallery, upper is part of the Museum.

If the buildings seem familiar (especially the Courthouse,) they have served as backdrops for several TV episodes and movies including Highway to Heaven, Little House of the Prairie, High Mountain Rangers and others.
You will notice heavy steel shutters on several early buildings after several fires virtually wiped out Mother Lode communities in the 1800s, new buildings were constructed out of brick and stone along these heavy shutters to prevent uncontrollable fires of the time from penetrating into the buildings, also effective at providing protection from burglary.
Image Information:
Copyright 2017 Larry Anderson
Linked to:
Categories:
Activities And Entertainment / Arts, Cultural, Museum